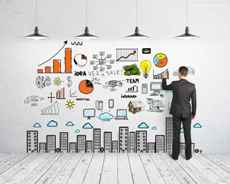 Many people dread going back to work after they have suffered an injury. They may have received compensation, but they may not be able to go back to their old job due to injury. Starting your own business with the compensation received may seem like an attractive idea for many. While this is certainly possible, you do need to be careful and do your research before jumping n with both feet. There are number of steps you need to take care of before you can open the door for business. The 4-step action plan described below will help you alleviate some of the jitters associated with starting a business.
1. Think About the Type of Business You Want to Run
Many people wish to start their own business because it allows them to be their own boss, make their own hours, and work where they choose. If you have suffered from a serious injury that has changed your life and your mobility, you may decide to invest in a new business and partner with the right people who can do most of the work after receiving your instructions. Another option would be to start a business from home and then run it online from your home office, where you can have everything you need without having to worry about a daily commute.
2. Write a Business Plan
Writing up a business plan is the first step that you need to take when you are serious about setting up a business. This will include sections that cover your executive summary, company description, market analysis, organization and management, service or product line, marketing and sales, funding request, and financial projections, along with an appendix.